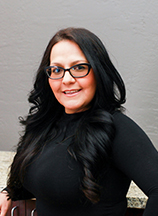 Elizabeth Garcia Administrator
Team Business Development Coordinator
Not a Licensed Individual
I am a California native moved to Arizona in 2010 and started working for Nova Home Loans in 2013. I am a proud mother of 3 amazing children, my oldest son is 22 in the Phoenix Police Academy, my only daughter is 19 and a PFC (Private First Class) in the US Army, my youngest is 16 a sophomore at Youngker High School plays for his varsity football team and looking into joining the US Air Force once he graduates high school.
I am a people person, I love to help everyone and anyone if I can and when I can that is why I chose to work in the mortgage industry.
People may not know the struggles others go through just to try to purchase their 1st home so being part of a team who will guide and help them get there whether it's in a few months or a couple of years is so satisfying.
I know this industry can be a little stressful however when you get a phone call on a random day from one of your clients who tells you how happy and grateful they are with our team for making their dream come true of being a home owner it reminds you why you are still here doing what you do and I wouldn't change it for the world.